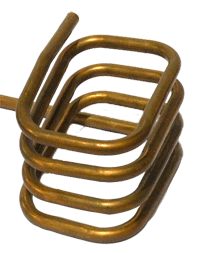 Welcome to Integrated Manufacturing Concepts
Integrated Manufacturing Concepts is a manufacturer of tube fabrication products across a wide range of industries requiring bent and fabricated tube products in diameters from 0.1875 to 1.00 inch. With modern CNC equipment and multiple tooling options, Integrated Manufacturing Concepts is able to respond to the unique requirements and diversities of prototype and low volume products, as well as high volume programs. Every product can be delivered to include the requirements of end finishes (expand, reduce, bead, and swedge), welding and brazing, as well as painting and other coating processes. We are experts in copper tube bending, steel bending and all other types of tube fabrication and bending.

With over 27 years of experience in the bending and fabrication of metal tubes and components, we are able to design the right process and tooling to meet every level of quality and delivery requirement. Our use of the tools of "Lean manufacturing" from the initial RFQ in the day to day business activities and in the manufacturing processes ensures that the customer is receiving the product they require, at the price they expect to pay. Lean activities include but are not limited to: engineering for conformance, OEE tracking, build to schedule tracking, 5S activities, and error proofing. Materials include steel, aluminum, stainless, copper, brass, and related alloys. We will quote your product with customer supplied material, or with material provided by Integrated Manufacturing Concepts. So whether you need steel tube bending, copper tube bending, or tube fabrication material, IMC has got you covered.